The Making of a European President
Julian Priestley and Nereo Peñalver García
22nd May 2015 - 2861 days ago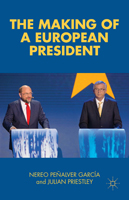 This book tells the inside story of how a "putsch" was organised in a Europe in crisis, how a small group of European politicians from different parties brought about the biggest change in twenty years in the way the EU decides its leadership. The authors describe first-hand Europe's first presidential campaign, the personalities, how the candidates were chosen, the controversies and incidents on the campaign trail, the policy differences, the rallies in the battleground states, the use of social media, and the TV debates.
It gives a blow–by-blow account of how Europe's most powerful leading governments were forced to make a humiliating climb-down
Julian !DECEASED! Priestley
and accept the election of a leader they did not support, chosen by a process they opposed.
But the book also analyses critically this new way of electing the President, what needs to change for 2019, and sets what happened in a broader historical context. A unique trip to the "kitchen" of EU politics.
CSA News
Bjorn Lomborg has been selected as one of the Top 100 Global Thinkers of 2011 by Foreign Policy magazine.

John Thackara's talk was "Brilliant" at the Mayo Clinic's innovation conference Transform 2011!

Sigourney Weaver gave a 'simply fantastic keynote' in Malaysia!

Ray Hammond and Richard Quest left their audience in Beijing with a "tremendous closing message".